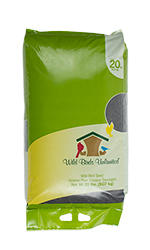 Goldfinches are arriving!
It's one of our favorite times of the year, when the American Goldfinch arrives for the winter! Make sure to put out fresh Nyjer, their favorite food. Stop by our store for the best seed in town. We also have a great selection of finch feeders.
Nyjer® (thistle) attracts finches of all kinds. Its high oil content is an excellent energy source for active birds and is best used in our specially designed finch feeders. It is important to keep the food fresh for our picky little eaters. Nyjer has a thin shell and is vulnerable to spoilage while in the tube. Once seed starts to dry out and become stale, finches will turn up their beak for fresher forage. Replace Nyjer seed in feeders every three to four weeks if it is not being actively eaten. Store your Nyjer in an airtight container for a longer shelf life, and buy in quantities that will be used up in a few weeks.